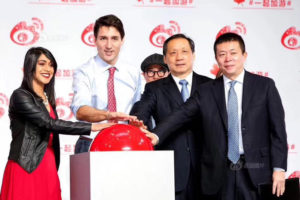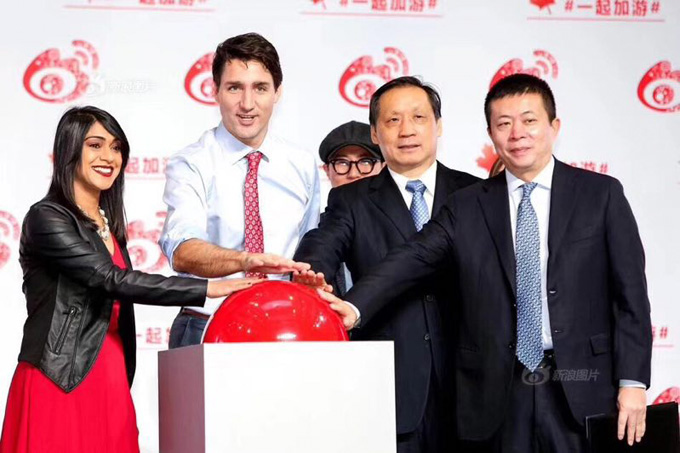 At the invitation of Chinese Premier Li Keqiang, Prime Minister Mr. Justin Trudeau of Canada paid an official visit to China from December 3 to 7. During his stay in China, the two held the second annual dialogue. On December 4, Beijing staged the logo release ceremony for the 2018 China-Canada Tourism Year. Prime Minister Trudeau and CNTA Chairman Li Jinzao together unveiled the tourism year program. President of Sina Cao Guowei and representatives of the tourism industry in both countries were also present at the ceremony.
Prime Minister Trudeau and Chinese young tourists shared their travel experience in Canada.
It is reported that since China and Canada established diplomatic relations more than 40 years ago, the political, economic, trade and people-to-people bond between the two countries has been deepening, producing fruits that benefit both Chinese and Canadian people in various fields. In particular tourism exchange and cooperation has become a new bright spot of the bilateral relations. In 2016, more than 1.4 million visits were made between the two countries and both Chinese and Canadian governments extended the validity of visa to 10 years for each other, stimulating people-to-people exchange and bilateral cooperation. From August 30 to September 6, 2016, Canadian Prime Minister Justin Trudeau made his first official visit to China at the invitation of Premier Li. During the visit, the two jointly declared 2018 as the China-Canada Tourism Year and agreed to expand cooperation on promoting two-way tourist exchange. The high-level visits between state leaders and the hosting of the Tourism Year program will open a new chapter of bilateral tourism exchange and cooperation and help take the bilateral relations further.